Realtime GUI for Asterisk® - RAGU
IN BRIEF
1. Realtime
Asterisk GUI patched with realtime (database support) for maximum flexibility.
2. Zero Cost
Special hardware used for neither server nor PSTN connection nor extensions
3. Wizard
Simple wizard to setup a default full featured PBX.
4. Mobile Extensions
Your wifi mobile phone can be your PBX extension.
Take demo
"The Zero Cost PBX"
While the
Asterisk PBX
is a free download, its associated hardware costs add up to quite a bit. RAGU patches AsteriskGUI to use realtime (databases) for maximum flexibility, sets up Asterisk to work virtualized so you need no new server hardware, gives it VoIP trunks so you need no hardware/cards for PSTN lines and integrates it with a browser based flash phone and wifi enabled mobile phones so you need no special hardware for extensions. This gives you a zero cost setup, a fast start and a better PBX. You can always add hardware later if you need, but once you get comfortable with OwnPages, you may not want to.
RAGU features
Asterisk GUI patched to use realtime (ARA) for maximum flexibility.
Simple setup wizard to get you going in minutes with a default setup.
All the power of Asterisk available in advanced setup in admin console.
Default setup by wizard
Wizard asks you just 2 questions to configure your PBX with following:
Default welcome message
Receptionist. Any one who logs in with prefix 101 becomes one.
Multiple extensions assigned to a user ring simultaneously.
Login to an extension to make it ring simultaneously with your own.
Voicemail.
Directory. Dial first 3 characters of name to get extension.
Console with call detail records to monitor use.
Many more options available in advanced menu.
Default call flow
Play welcome message.
Ask caller to dial required extension.
If caller doesn't dial anything goto Directory.
If still caller doesn't dial anything transfer call to operator/receptionist.
If the operator is busy then queue call.
Mobile phones as extensions
Wifi and SIP enabled mobile phones become roaming extensions.
Connect to your PBX as soon as you walk into office.
Roam in office without missing PBX calls.
It should work with Sjphone on windows mobile.
Those fortunate enough to have an Android phone try this.
It does not work well with iPhone currently due to lack of background support.
It does not work with Blackberry generally without its MVS server.
Plain Jane Softphone for extensions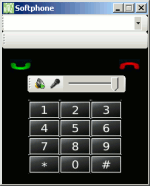 This phone is plain
and proud of it
Bundled Plain Jane softphone makes your desktop your extension.
World's first featureless softphone.
Browser console gives it functionality to match any feature phone.
Comes with optional USB phone to avoid using headsets.
Hardware SIP phones as extensions
If you must buy hardware, use cheap ATAs with analog phones.
SIP phones are supported also, for special requirements.
Polycom, SNOM, ASTRA, Linksys, Cisco, Grandstream etc.
RAGU as separate download